Wedding Cake Information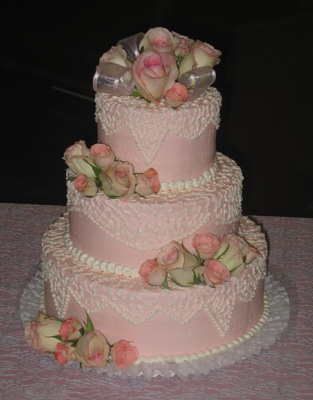 We know that your wedding day is one of the most important days of your life. Our professional consultants will make your dream cake become a reality, by helping you to select the style, design, and flavors to complement your wedding. Choose from our soft romantic Victorian styles or our more current Contemporary designs. Whichever you select, we will create the perfect cake for your special day.
Our wedding cakes are available in all sizes from the smaller 2-tiered cakes which serve 25, to our grand, multi-tiered creations for hundreds of guests. Your wedding cake can be designed with pillars between the tiers, stacked on one another, or on individual stands.
We offer many side decorations to choose from including beautiful filigree designs, cornelli lace, swirls and curls, scrolls and dots, pillars and swags, dotted swiss, lily of the valley, and different styles of dots. Or you may choose one of our smooth iced cakes decorated with ribbons beautifully wrapped around each tier.
Whether you prefer our Pink Champagne cake with Strawberry Cream Cheese filling, the traditional French Vanilla cake with Raspberry filling or a more modern combination, such as Butter Rum cake with Rum Cream filling, your guests will enjoy the delicious combination you select. We have many different cake flavors and filling flavors to choose from and we frost each of our wedding cakes with our delicious all-from-scratch Vanilla Buttercream icing.
When you decide to order your wedding cake, we take 1/3 deposit with the balance due by 2(two) weeks before the wedding. On wedding cakes that serve 95 guests or more, we offer delivery and set-up in the central Phoenix area for a minimal fee, with a slightly higher charge for locations farther out.
Please call us to schedule your bridal or special occasion consultation and complimentary cake tasting and come browse through our albums with beautiful photos of cakes we have made. And be sure to visit our wedding cake photo album here, for a sampling of our creations.
---
---
Victorian Cake Company
602-246-4633
A licensed bakery since 1989

©Victorian Cake Company, All Rights Reserved